REFRENCE SIRE
TR KING YOGI CHEX (DOUBLE REGISTERED) (GELDED)
BUCKSKIN TOBIANO
(CLICK HERE TO VIEW YOGI'S 5 GENERATION PEDIGREE)
APHA REG #1,010,911
CPTHA REG #P3109
COLOR RESULTS:
RED FACTOR - E/e - CARRIES BOTH BLACK AND RED FACTORS (BASIC COLOR IS BLACK, BAY OR BROWN IN THE ABSENCE OF OTHER MODIFYING GENES)
AGOUTI - A/A - BLACK PIGMENT DISTRIBUTED IN POINTS PATTERN (BASIC COLOR IS BAY OR BROWN IN THE ABSENCE OF OTHER MODIFYING GENES)
CREAM - N/Cr - HETEROZYGOUS DILUTE, ONE COPY OF CREAM GENE (TYPICAL COLORS ARE PALOMINO, BUCKSKIN AND SMOKY BLACK IN THE ABSENCE OF OTHER MODIFYING GENES)
LETHAL WHITE OVERO - N/N - NO EVIDENCE FOR THE ALTERED SEQUENCE DETECTED
TOBIANO - N/TO - ONE COPY OF ALTERED SEQUENCE (APPROXIMATELY 50% OF THE OFFSPRING WILL INHERIT TOBIANO)
5 PANEL RESULTS:
GBED: N/N
HERDA: N/N
HYPP: N/N
MH: N/M
PSSM1: N/PSSM1
HEIGHT: 15.0 HH BORN: 2011
WITH THE TEST RESULTS COMING BACK ON HIS 5 PANEL, AS A CARRIER OF ONE COPY OF PSSM1 YOGI, AFTER BEING USED AS OUR HERD STALLION FOR 3 BREEDING SEASONS, WILL BE CASTERATED. HE HAS PUT SOME FANTASTIC FOALS ON THE GROUND FOR US, AND WE WILL BE LOOKING TO RETAIN A FEW FILLIES BY HIM NEXT YEAR TO ADD TO THE BROODMARE BAND AS LONG AS THEY TEST 5 PANEL CLEAN.
-WE HAVE RETAINED HIS LOAN FOAL FROM 2014
-ALL BUYERS OF HIS 2015 FOALS HAVE BEEN MADE AWARE OF THE TEST RESULTS AND WERE GIVEN A FEW OPTIONS FROM US MOVING FORWARD. (WE DO NOW HAVE 3 FOALS AVAILABLE AGAIN)
-ALL 2016 FOALS OF YOGI'S WILL BE 5 PANEL TESTED PRIOR TO BEING OFFERED FOR SALE. UNLESS PURCHASED IN-UTERO, IN WHICH CASE THE BUYER WILL BE MADE AWARE THE FOAL HAS A 50% CHANCE OF CARRYING THE DISEASE.
WE INTEND ON CONTINUING TO RIDE AND DRIVE YOGI AFTER HE HAS BEEN CASTERATED AS HE IS AN EXCELLENT RIDING MOUNT.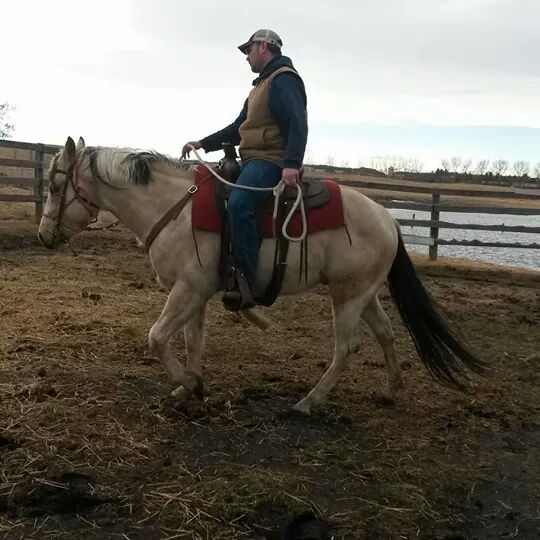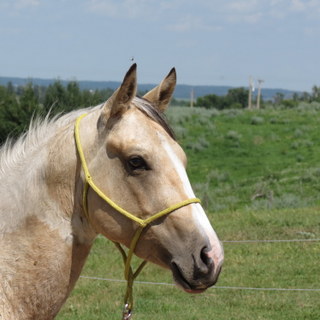 FINTRY QUARTER HORSES REFRENCE SIRES:
FINTRY DRIFT HANCOCK (CLICK HERE TO VIEW 5 GENERATION PEDIGREE)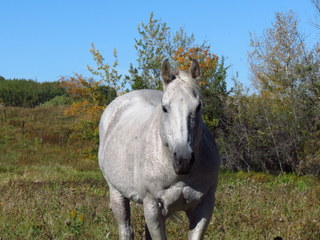 TKM BEN DRIFTEN (CLICK HERE TO VIEW 5 GENERATION PEDIGREE)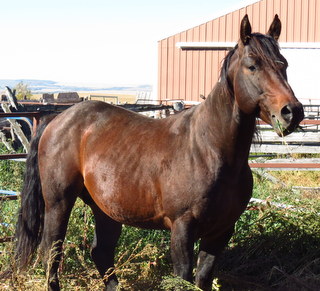 Reference Sires:
JULIE JO (sadly put down spring 2012)
(CLICK HERE TO VIEW JJ'S 5 GENERATION PEDIGREE)
APHA REG # 255,784
COLOR: SORREL/TOBIANO HEIGHT: 14.3HH
BORN:APRIL 6, 1993 NORTH DAKOTA


J
J H
AS BEEN BREEDING MARES FOR AUDREY SINCE HE WAS A TWO YEAR OLD. MANY OF THE COLTS FROM HIM HAVE GONE ON TO BECOME GREAT KIDS MOUNTS WITH MINIMAL RIDING. WHEN CHOOSING OUR MARES FOR JJ WE LOOK FOR QUITE, AND CALM MARES WITH THE GOAL OF RAISING ANOTHER GREAT KIDS HORSE.
JJ ALWAYS THROWS COLTS WITH BIG HIPS AND LOTS OF BONE. THEY ALSO ALL HAVE FRIENDLY AND INQUISITIVE PERSONALITIES.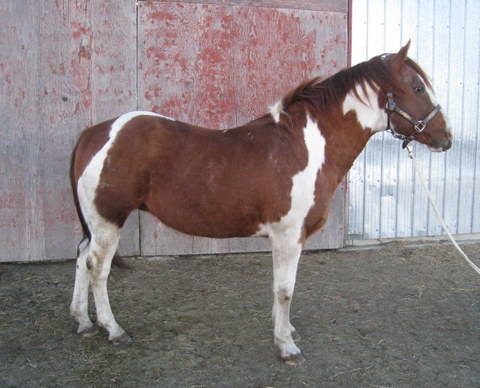 Fintry Cibecue Blue (SADLY PUT DOWN SUMMER 2013)
(CLICK HERE TO VIEW FINN'S 5 GENERATION PEDIGREE)
AFTER JUST TWO SHORT BREEDING SEASONS HE HAD TO BUT FINN DOWN DUE TO A FREAK ACCIDENT. HE HAS LEFT US WITH 2 APHA STUD COLTS FROM 2013 AND 1 APHA FILLY, HE WAS BRED TO 10 OF OUR MARES FOR 2014 FOALS.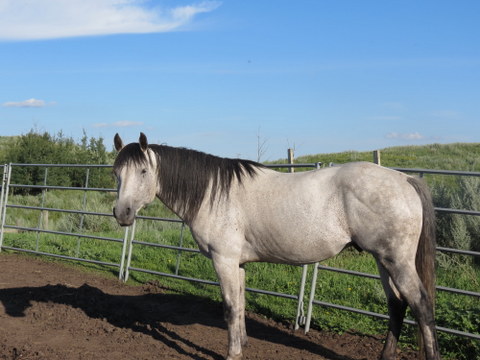 BH TWO EYED BILLY SOLD
(CLICK HERE TO VIEW BILLYS 5 GENERATION PEDIGREE)

AQHA REG # 4249142
COLOR: BLACK HEIGHT: 15.0 HH
BORN: APRIL 4, 2002 ALBERTA